¿Seguimos con el reto?
Una película dirigida por un actor/actriz reconvertido/a a director/a: Sean Penn con "Hacia rutas salvajes".
Hacia rutas salvajes
(Into the Wild)
EEUU, 2007; Duración: 140 min., Director: Sean Penn, Guion: Sean Penn (Libro: Jon Krakauer), Música: Michael Brook, Eddie Vedder, Kaki King (Canciones: Eddie Vedder), Reparto: Emile Hirsch, Marcia Gay Harden, William Hurt, Jena Malone, Brian Dierker, Vince Vaughn, Kristen Stewart, Catherine Keener, Hal Holbrook, Thure Lindhardt, Signe Egholm Olsen, Zach Galifianakis, Haley Ramm, R.D. Call.
Premios:
2007: 2 nominaciones al Oscar: Mejor actor de reparto (Hal Holbrook), montaje.
2007: Globo de Oro: Mejor canción original. 2 nominaciones.
2008: Premios César: Nominada a Mejor película extranjera.
2007: National Board of Review: Mejor actor revelación (Hirsch), 10 mejores películas.
2007: Asociación de Críticos de Los Angeles: Finalista a mejor actor sec. (Hal Holbrook).
2007: American Film Institute (AFI): Top 10 - Mejores películas del año.
2007: 7 nominaciones Critics' Choice Awards, incluyendo mejor película, director y actor.
2007: Asociación de Críticos de Chicago: 3 nominaciones incluyendo mejor película.
2007: Sindicato de Guionistas (WGA): Nominada a Mejor guión adaptado.
2007: Sindicato de Actores (SAG): 4 nominaciones inc. Mejor reparto.
Género: aventuras, drama, road movie, basado en hechos reales.
Sinopsis: A principios de los años noventa, el joven e idealista Christopher McCandless (Emile Hirsch), adopta el nombre de Alexander Supertramp, deja sus posesiones y sus ahorros a la beneficencia y abandona el mundo civilizado con rumbo a la salvaje Alaska para entrar en contacto con la Naturaleza y descubrir el verdadero sentido de la vida. Adaptación del best-seller de Jon Krakauer, basado en las notas del diario de McCandless.
¿Por qué la he escogido?: esta lleva tanto tiempo en mi disco duro que creo que empezaba a criar y todo… como la dirige Sean Penn, y uno de mis propósitos con el reto de este año es limpiar un poco el disco duro, pues me venía estupenda.
Lo mejor: me atrapó prácticamente desde el principio, tengo una gran debilidad por las road movies, especialmente aquellas que envuelven a un personaje que se sale de la norma, que busca su propio camino desmarcándose de lo que se ha establecido como 'lo normal'. Y si ese camino implica desaparecer de la sociedad y embarcarse en un viaje de autodescubrimiento en la naturaleza, me termina de conquistar.
No conocía la historia de Christopher McCandless, así que la vi sin saber nada sobre él. Siempre me siento algo identificada con estos personajes, solo que yo no he tenido el valor de hacer algo así nunca. Y si alguna vez lo hiciera, no llegaría al extremo del bueno de Chris ni de broma. Pero desconectar de este mundo que parece que te obliga a estudiar, estar en forma, tener un buen trabajo con el que ganar mucho dinero, comprarte una buena casa, un buen coche, casarte, tener hijos… es algo que a mucha gente le atrae y que lo piensa mucho. Pero que casi nadie se atreve a realizar.
Quizás se le puede acusar de idealista y de ingenuo, pero no todo el mundo tiene el mismo carácter ni las mismas necesidades.
La cinta nos muestra la historia de Chris de principio a fin, primero la vida con sus padres y después su viaje como nómada, a la gente que conoció, las cosas que le sucedieron y su llegada al fin a Alaska, el sitio con el que él siempre había soñado. La cinta está dividida en partes, según el aprendizaje que sacaba de ellas, y muchas veces narrada por su hermana.
No voy a engañaros, su muerte me impactó muchísimo, la verdad es que no la esperaba y se me ha quedado grabada. Me he pasado días pensando en ello…
Preciosos paisajes, la naturaleza capturada de forma estupenda. Salvaje y preciosa. Y a eso, le añadimos unos personajes muy bien definidos e interpretados y una historia muy bien contada, con fuerza y pasión. Tanta como la que tenía el auténtico Chris.
Me cautivó desde el principio
Lo peor: nada.
Conclusiones: llevaba mucho tiempo en mi disco duro, no sé porque esperé tanto para verla. Quizás me tiró hacia atrás su larga duración (aunque luego la vi en un suspiro). El caso es que no lo sé, pero fue un error. Me ha gustado, y la he disfrutado una barbaridad. Es de esas películas que te dejan pensando, pensando cómo sería dejarlo todo e irse a vivir a la naturaleza.
Nada más vi la película, saqué de la biblioteca el libro en el que se basa la película y lo leí en apenas unos días. Tan recomendable como la película. Especialmente para aquellos de espíritu aventurero, pero que no son capaces de lanzarse a ello.
Tina
(What's Love Got to Do with It)
EEUU, 1993; Duración: 120 min., Director: Brian Gibson, Guion: Kate Lanier, Música: Stanley Clarke, Reparto: Angela Bassett, Laurence Fishburne, Vanessa Bell Calloway, Jennifer Lewis, Phylis Yvonne Stickney, Khandi Alexander.
Premios:
1993: 2 nominaciones al Oscar: Mejor actor (Laurence Fishburne), actriz (Angela Bassett).
1993: Globo de Oro: Mejor actriz comedia o musical (Angela Bassett).
Género: musical, drama, biográfico.
Sinopsis: Nacida Anna Mae Bullock en 1939 en una pequeña población de Tennessee, el destino de Tina no le dio ni un segundo de descanso. Junto a Ike alcanzó la cumbre en el mundo de la música, pero también pagó muy caro el éxito: su matrimonio estuvo marcado por la violencia, los malos tratos y la angustia, pero Tina pudo encontrar el valor suficiente para abandonarlo todo y empezar de nuevo su vida y su carrera. De lo más bajo a lo más alto.
¿Por qué la he escogido?: otra que empezaba a criar polvo en el disco duro. No sé cómo llegó allí, no es que sea un gran fan de Tina Turner (aunque hay muchas canciones de ella que me encantan), pero imagino que me apetecía verla por Angela Bassett, que sí que me gusta.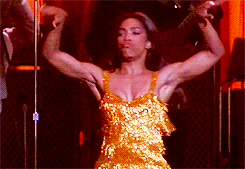 Lo mejor: no conocía nada sobre la historia de Tina Turner y me ha resultado muy interesante. Conocí a Tina cantando ya en solitario, así que ni su relación con Ike, ni a este, me sonaba de nada. Curioso, cuando el que era muy famoso era él.
Tina tuvo una tormentosa relación con Ike. Él la descubrió y la llevo a la fama, pero pagó un precio muy caro. Sufrió malos tratos, tanto físicamente como verbalmente por parte de él. Además, se aprovechó de su talento explotándola, nunca le dejó cantar lo que ella quería (el rock) ni quiso escuchar sus ideas ni letras, y hasta quiso quitarle su nombre artístico cuando ella se quiso divorciar y no volver a verle jamás. Pero Tina jamás se doblegó y todos conocemos de sobra su historia después de Ike (casi más famosa aun), además de pasar a la historia con el sobrenombre de 'la reina del rock'.
Cierto que es un biopic al uso sobre como Tina llegó a ser quien era, pero está muy bien contando y es ameno. Además, cuenta con unas magníficas actuaciones, con Angela Bassett como Tina Turner, que se mueve y actúan totalmente como la cantante, y un gran Laurence Fishburne como Ike Turner.
Ambientación de la época excelente y una BSO de lujo terminan de redondearla.
Lo peor: muy precipitada en su cierre, cuenta despacio y con muchas explicaciones los inicios de Tina, pero el final pasa a contarlo a cámara rápida y muy por encima. Centrándose más en su descubrimiento y época con Ike, que luego ella en solitario.
Es un biopic bastante al uso.
Conclusiones: merece la pena verlo, Tina fue (y es) toda una luchadora, luchó contra todo y logró salir victoriosa. Historias de mujeres valientes como ella merecen ser contadas. Además, los actores están geniales y la BSO es inmejorable. Tanto si eres fan de ella como si no, os recomiendo verla.
Una película que transcurra en un país que te encante: Italia, "La desconocida".
La desconocida
(La sconosciuta)
Italia, 2006; Duración: 118 min., Director: Giuseppe Tornatore, Guion: Giuseppe Tornatore, Massimo De Rita, Música: Ennio Morricone, Reparto: Kseniya Rappoport, Michele Placido, Claudia Gerini, Margherita Buy, Piera Degli Esposti, Pierfrancesco Favino, Clara Dossena, Alessandro Haber, Ángela Molina, Pino Calabrese, Nicola Di Pinto.
Premios:
2006: Premios David di Donatello: 5 premios, incluyendo mejor película. 13 nominaciones.
2007: Premios del Cine Europeo: Premio del Público.
Género: drama, intriga.
Sinopsis: Irena, una inmigrante ucraniana asentada en Italia hace muchos años, combina la vida cotidiana con los fantasmas del pasado, lo que da lugar a un inquietante rompecabezas. Tras sobrevivir a un viaje dramático, Irena fue víctima de hombres brutales y sin escrúpulos. Las humillaciones y malos tratos sufridos vuelven constantemente a su memoria y no le permiten vivir en paz. Sólo permanece en su memoria un recuerdo hermoso: el de un melancólico y desgarrador amor perdido.
¿Por qué la he escogido?: sabía que una película italiana (y rodada allí) caería. Porque adoro Italia y me encantaría vivir allí. Es más, este año si no se me tuerce nada, me encantaría empezar a aprender italiano. Así que esta fue la primera con la que me topé, y fue la elegida, en la filmoteca que estaba esperándome (llegué a ella rebuscando cintas que aún no había visto de Tornatore).
Lo mejor: su actriz principal esta increíble y su química con la niña es impresionante. Transmiten mucho. Aunque la verdad es que todo el reparto está estupendo. Muy creíble. Igual sus personajes, muy bien definidos.
La forma de retratar el drama de nuestra protagonista, aunado con el thriller, hace que te atrape todo el metraje (ni un segundo de aburrimiento, prometido). La historia fluye muy bien y el guion está muy bien llevado. Entre los flashbacks del pasado de Irena y la vida actual de ella que vamos viendo, poco a poco se va reconstruyendo su historia y conociendo, lo que intuimos, fue una muy mala vida, llena de maltratos.
Una mujer fuerte de protagonista (y una actriz fantástica encarnándola), una estética impecable, un manejo del suspense y los giros estupendo y una BSO del maestro Morricone. La verdad es que solo me salen alabanzas, para esta cinta que me cautivó de principio a fin, con esa mezcla de drama y thriller de suspense.
Lo peor: nada, la verdad es que nada.
Conclusiones: la verdad es que el cine de Tornatore me gusta una barbaridad, adoro como describe a sus personajes y la siempre buenísima elección de sus actores, además de las historias que nos cuenta. Ese toque de ternura y crudeza que siempre lo invade todo. Aun me quedan unas pocas películas que ver del director, pero hasta ahora, todas me han enamorado. Esta no es la excepción y, si podéis, os recomiendo verla.
Una película con un momento del día en el título: "El expreso de medianoche".
El expreso de medianoche
(Midnight Express)
EEUU, 1978; Duración: 121 min., Director: Alan Parker, Guion: Oliver Stone (Autobiografía: Billy Hayes), Música: Giorgio Moroder, Reparto: Brad Davis, John Hurt, Bo Hopkins, Irene Miracle, Randy Quaid, Paolo Bonacelli, Mike Kellin, Michael Ensign, Franco Diogene, Peter Jeffrey, Norbert Weisser, Paul Smith, Kevork Malikyan.
Premios:
1978: 2 Oscars: Mejor guión adaptado, banda sonora. 6 nominaciones.
1978: 5 Globos de Oro, incluyendo Mejor película - Drama. 8 nominaciones.
1978: Premios BAFTA: Mejor director, actor sec. (Hurt) y montaje. 6 nominaciones.
1978: Sindicato de Directores (DGA): Nominada a Mejor director.
1978: Sindicato de Guionistas (WGA): Mejor guión adaptado drama.
1978: Festival de Cannes: Nominada a la Palma de Oro (mejor película).
Género: drama, basado en hechos reales.
Sinopsis: Billy Hayes (Brad Davis), un joven estadounidense, fue detenido en el aeropuerto de Estambul cuando se disponía a subir a un avión con varios paquetes de hachís. Acusado de uno de los delitos considerados más graves en Turquía, Billy es condenado a cuatro años de cárcel. En prisión sufrirá las atrocidades propias de un sistema penitenciario brutal e inhumano.
¿Por qué la he escogido?: estaba en el disco duro y tenía la palabra 'medianoche' en el título, así que venía de lujo. Cómo llegó allí, pues ni idea…
Lo mejor: Brad Davis y John Hurt inolvidables en sus papeles. Pero más inolvidable aun es la historia que vivió su protagonista, totalmente real, en una cárcel de Estambul. Las duras condiciones de vida y el trato inhumano calan en el espectador. Y sirven también a modo de denuncia.
Prácticamente toda la película se sitúa dentro de la cárcel, pero el guion es magnífico y hace que te mantenga pegado a la pantalla y dejándote a cuadros con las situaciones que viven los presos. Y creedme, hay escenas tremendamente impactantes.
La cinta sabe llevarte por los sentimientos del protagonista, desde un inicio con esperanza por estar allí solo 4 años, pasando por el miedo, el dolor, la alegría cuando creen que podrán fugarse, la desesperación cuando descubren que no, la malísima noticia de que le alargarán la pena… enseguida te metes en su piel y te hace sufrir a ti también.
Su lúgubre ambientación, y su aura deprimente hacen el resto para terminar de meterte de lleno. Desde luego, una cinta redonda, gracias especialmente al buen hacer de sus actores y su estupendo guion.
Lo peor: nada, quizás algo efectista, pero nada que moleste mucho.
Conclusiones: una de esas películas que me alegro de ver gracia a este reto. Es de esas impactantes que se te quedan grabadas por su dureza y por la historia real que hay detrás. Muy recomendable. Además, un gusto ver al gran John Hurt. Y su actor principal, al que apenas conocía, está genial.