Seguimos con el reto, esta vez con un clasicazo, un western y un par de cintas de superhéroes.
Un blockbuster del año que cumpliste 18: "Hancock".
Hancock
EEUU, 2008; Duración: 92 min., Director: Peter Berg, Guion: Vince Gilligan, Vincent Ngo, Música: John Powell, Reparto: Will Smith, Charlize Theron, Jason Bateman, Eddie Marsan, Jae Head, David Mattey, Maetrix Fitten, Thomas Lennon, Johnny Galecki, Hayley Marie Norman, Akiva Goldsman, Michael Mann, Brad Leland, Trieu Tran, Darrell Foster, Daeg Faerch.
Género: fantástico, acción, comedia, superhéroes.
Sinopsis: Hancock (Will Smith), una especie de héroe bastante impopular, se siente insatisfecho, atormentado e incomprendido. Con sus acciones heroicas, consigue salvar muchas vidas, pero, al mismo tiempo, provoca auténticas catástrofes. Aunque, en general, la población le está agradecida, la mayoría de los habitantes de Los Ángeles no puede soportarlo. Un día en que le salva la vida a Ray Embrey (Jason Bateman), un alto ejecutivo de una empresa de relaciones públicas, Hancock se da cuenta de que es un ser vulnerable.
¿Por qué la he escogido?: casi me quedo sin nada que poner en esta categoría. Viendo el listado de blockbuster de cuando cumplí 18, me he dado cuenta que ¡los vi todos! Tirando un poco más para atrás en la lista vi este, que no lo vi. Veréis, no me gusta Will Smith y los superhéroes no mucho tampoco, así que ya sabéis porque no lo hice… ¡quien me diría que acabaría viéndolo!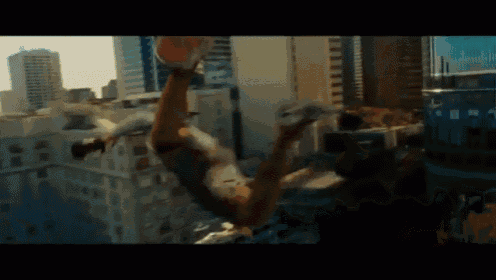 Lo mejor: el giro de guion que toma al revelarse la identidad del personaje interpretado por Charlize Theron, y conocer más sobre la historia tanto de ella, como del propio Hancock, eso me amenizó ver la recta final con más ganas. La verdad es que no me lo esperaba y me gustó.
La película tiene como dos tonos, el socarrón-tontorrón del principio (para mi gusto, muy fallido) para luego convertirse en una historia más trágica y profunda (esta parte me convenció más).
Hay buena química entre Will Smith y Charlize Theron.
Lo peor: su principio, casi quito la película por insoportable. La dejadez y el gesto de cansinismo de Smith en su personaje, su escena de 'sexo voladora' patética y, en general, el aire patético que desprendía la película no me invitaban a continuar viéndola. Ese tono tan tontorrón americano no me convencía nada. No ayudó tampoco que se me bloquease el lector de blu-ray casi nada más empezar a verla. Aun así, continúe con ella, por poder escribir algo más por aquí. Al final resultó que no estaba tan mal, pero… tampoco es nada del otro mundo. Tiene una mezcla de tonos extraña y su guion parece hecho a retales.
Conclusiones: no me convenció mucho, la verdad. Me faltó nada para quitarla y no terminar de verla, me estaba durmiendo mientras la veía y pensando en otras cosas, pero me animó un poco ver ese cambio de rumbo en su historia. Que tampoco es que sea nada del otro mundo, pero eso junto a su corta duración, hicieron que la terminase de ver algo más atenta. No es una peli que agradeceré ver por este reto (podría haber seguido siendo muy feliz sin verla), pero al menos tampoco fue un desastre mayúsculo.
Una película ambientada antes del siglo XX: "Brimstone".
Brimstone
Países Bajos (Holanda), 2016; Duración: 148 min., Director: Martin Koolhoven, Guion: Martin Koolhoven, Música: Junkie XL, Reparto: Guy Pearce, Dakota Fanning, Emilia Jones, Paul Anderson, William Houston, Ivy George, Jack Hollington, Carice van Houten, Kit Harington, Carla Juri, Jack Roth, Justin Salinger, Bill Tangradi, Vera Vitali, Dorian Lough, Dan van Husen, Naomi Battrick.
Premios:
2016: Festival de Venecia: Sección oficial largometrajes a concurso.
2017: Festival de Sitges: Sección oficial largometrajes a concurso.
2017: Premios del Cine Europeo: Mejor peluquería y maquillaje
Género: western, triller.
Sinopsis: A finales del siglo XIX, Liz (Fanning) es una madre joven que intenta huir de su pasado mientras es perseguida por un diabólico predicador (Pearce), que ha llegado al pueblo donde vive ella.
¿Por qué la he escogido?: fue la primera película que vi en 2018 (el 1 de enero), casi ni me había dado tiempo a mucho más que imprimir el reto de este año. Cuando ya me lo leí más atentamente, vi que entraba estupenda en esta categoría. Así que ale, primera categoría y película superada.
Lo mejor: muy entretenida, es un thriller (con toques western) que atrapa. La historia de una joven (añade el toque de ver la vida en el oeste desde el punto de vista de una mujer) y la vida que se ve obligada a llevar, mientras es perseguida por un maniaco predicador. Poco a poco, se va descubriendo la historia de ambos y el porqué de a persecución (y huida).
Tiene momentos escabrosos, que le dan un toque de cinta de terror que le va muy bien.
La cinta está dividida en partes, todas referentes a la vida de la prota. Desde su estancia en el burdel, a su etapa en su casa con su marido y su hija, o su vida de niña con sus padres. Me gustó.
Los actores están estupendos, Fanning como una mujer luchadora y Pearce como un loco predicador obsesionado con la religión (pero que la adapta a su manera).
La ambientación es genial, muy oscura. Un western oscuro, épico, con mucho de thriller y un punto de terror.
Lo peor: es cierto que es larga y que se podría haber escrito más sencilla y estructurada (tiene la manía de ir 'para atrás' y 'para adelante' narrando y presentando a los personajes), pero aun así, es el único pero que le pondría.
Y sí, recuerda lejanamente a la gran: "La noche del cazador".
Conclusiones: fue una estupenda manera de empezar el año, porque la cinta me encantó y la disfruté mucho. Fijaros que ni me di cuenta de que era bastante larga. Sus protas están geniales y la historia me enganchó. Así que si no os dan miedo las películas largas, os la recomiendo.
Una película ganadora de un Razzie: "Batman & Robin".
Batman & Robin
EEUU, 1997; Duración: 92 min., Director: Joel Schumacher, Guion: Akiva Goldsman (Cómic: Bob Kane), Música: Elliot Goldenthal, Reparto: George Clooney, Arnold Schwarzenegger, Uma Thurman, Chris O'Donnell, Alicia Silverstone, Michael Gough, Pat Hingle, Elle MacPherson, Vivica A. Fox, John Glover, Joe Sabatino, Coolio, Nicky Katt, Doug Hutchison, Kimberly Scott, Michael Paul Chan, Jeep Swenson, Harry Van Gorkum.
Premios:
1997: Premio Razzie a la peor actriz sec. 11 nominaciones, incluyendo peor película.
Género: fantástico, acción, superhéroes, secuela.

Sinopsis: Los experimentos del doctor Victor Fries para conservar la vida de su esposa con técnicas criogénicas originaron un error fatal que lo convirtió en Míster Frío, un villano que necesita mantener su cuerpo a temperaturas glaciales y que intentará congelar a todos los habitantes de la ciudad de Gotham. Además, la tímida botánica Pamela Isley se transforma en el transcurso de un experimento en la terrible Hiedra Venenosa que querrá asesinar a todos los seres humanos para que las plantas recuperen su hegemonía sobre la Tierra. Batman y su compañero Robin deberán enfrentarse a ellos para hacer fracasar sus siniestros planes.
¿Por qué la he escogido?: veréis, cuando era pequeña (y sigo igual) me encantaba Batman. Así que mis padres me ponían las películas de Tim Burton sobre él ("Batman" y "Batman vuelve" y aunque no era de Burton, también "Batman forever". Aunque esa en menor medida). Y era muy, muy fan. Nunca recuerdo que me pusiesen la de "Batman & Robin".
Me apetecía hacer un revisionado de todas las películas de Batman, así que incluí esta, que fue nominada a 11 Razzies (pero sólo ganó 1) y así me servía para el reto.
Lo mejor: los malos de la película, es lo que más me ha gustado. Me ha molado mucho Uma como Poison Ivy. Creo que está estupenda en su personaje y como lo ha construido. También me ha gustado el Dr. Freeze de Schwarzenegger. Le han diseñado el personaje más a su medida y creo que ha resultado siendo un acierto, él también me ha convencido.
Estéticamente también está muy lograda y los efectos están bastante bien. Hay muchas escenas de acción llamativas que te hacen quedarte a verla.

Lo peor: ¿Los diálogos los ha escrito Matías Prats? Decidme la verdad, lo hizo, ¿a que sí? Esos pareados y esas bromitas sin gracia solo pueden salir de él.
La película no termina de funcionar, es muy incoherente, muy caótica. Casi no hay trama, las escenas de acción van surgiendo mientras los personajes van apareciendo y contándonos sus problemas de una forma muy superficial y poco definida. Sí, todos conocemos a Batman, pero eso no quiere decir que la película no nos lo presente (esta película no es secuela de las anteriores, por mucho que diga que lo es).
Tampoco es culpa de Clooney, no es que lo haga mal (es más, sale hasta poco), están peor sus compañeros de reparto: Robin (Chris O'Donnell) y Batgirl (Alicia Silverstone). Pero ninguno llega a convencer demasiado en sus personajes.
Le falta chispa, el humor no termina de funcionar y han querido hacer un hibrido del estilo Burton con el del propio Joel Schumacher (director de esta cinta) y ha quedado un pastiche raro.

Conclusiones: sí, es desastrosa. Pero, no me matéis, no me lo he pasado tan mal viéndola (peor me parece el Batman de Adam West). Será que esperaba algo tan malo que al verla al fin no ha cumplido mis expectativas (que al revés esto también funciona). Tiene bastante acción y unos malos que me gustaron (sin llegar a ser gran cosa comparado con películas anteriores de Batman) y pasé un rato ameno sin pensar demasiado. Pero eso no quita que todos tengan razón, es decepcionante y las anteriores entregas eran mil veces mejores.
Una película con un vegetal o una fruta en el título: "Las uvas de la ira".
Las uvas de la ira
(The Grapes of Wrath)
EEUU, 1940; Duración: 129 min., Director: John Ford, Guion: Nunnally Johnson (Novela: John Steinbeck), Música: Alfred Newman, Reparto: Henry Fonda, Jane Darwell, John Carradine, Charley Grapewin, Dorris Bowdon, Russell Simpson, John Qualen, O.Z. Whitehead, Eddie Quillan, Zeffie Tilbury, Ward Bond.
Premios:
1940: 2 Oscars: Mejor director, actriz secundaria (Jane Darwell). 7 nominaciones.
1940: National Board of Review: Mejor película.
1940: Círculo de críticos de Nueva York: Mejor película y director.
Género: drama, drama social, road movie.

Sinopsis: Tom Joad (Henry Fonda) regresa a su hogar tras cumplir condena en prisión, pero la ilusión de volver a ver a los suyos se transforma en frustración al ver cómo los expulsan de sus tierras. Para escapar al hambre y a la pobreza, la familia no tiene más remedio que emprender un larguísimo viaje lleno de penalidades con la esperanza de encontrar una oportunidad en California, la tierra prometida.
¿Por qué la he escogido?: cuando iba al colegio, la profesora de historia nos mandaba ver películas que tuviesen que ver con el tema (o los temas) que se estuviese dando. Siempre había varias candidatas que se podían escoger, de varias temáticas. "Las uvas de la ira" era una de ella, y como imaginareis, no la vi. Fue una de esas que prometí ver más adelante. He tardado mucho, pero el reto me ha venido estupendo.
Por cierto, de aquellas clases, ya solo me queda pendiente por ver una.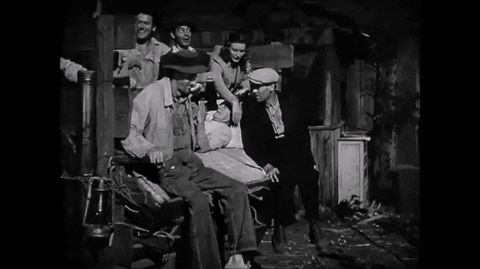 Lo mejor: cuesta, lo fácil sería decir que todo, que es un perfecto estudio de una época y de un lugar, con grandes personajes y magnificas actuaciones. Pero me quedaría un poco corta.
Practicamente todos los países han vivido una situación como la vista aquí, la emigración de los más pobres a otras tierras (que prometen trabajo) para sobrevivir. Y aquí asistimos a eso, Tom Joad (Henry Fonda) sale de la cárcel y descubre que su familia ha sido expropiada de sus tierras, le tocará cargar las escasas pertenencias de todos, subirse a una maltrecha camioneta, y ponerse rumbo a otro lugar. Dejando atrás todos lo que conocen. Y aquí empezarán sus penurias: pasarán hambre, miedo, serán explotados, les pegarán, algunos morirán, les tratarán mal… y todo, solo por encontrar un trabajo y algo que comer. Vemos de primera mano cómo a las ciudades donde van no les quieren (tampoco los otros encuentran trabajo), como los capataces se aprovechan de ellos, las rivalidades con otras familias… pero también el lado amable de quienes les tenderán una mano para ayudarles. La película es la vida misma, mostrando la cara más amable y más cruel del ser humano. Todo, con un retrato magnifico de la época y mostrando la situación económica, política y social.
Todo esto, con una actuaciones geniales por parte de todos (Henry Fonda y Jane Darwell sin ninguna duda los mejores) y una dirección magistral del gran John Ford. Es una película impresionante, dura y tensa, que te mantiene pegado a la pantalla toda su duración.

Lo peor: nada de nada, iba a escribir que quizás un prólogo antes de verla, explicando la situación económica, política y social de los EEUU en la época no hubiese venido mal. Pero en el blu-ray que cogí de la filmoteca, la cinta venía con ese prólogo (que se añadió a posteriori).

Conclusiones: no vais a encontrar mejor representación de la depresión que asoló EEUU en los años 30 que la de esta película (bueno, seguramente sí si leéis el libro, que me han dicho que es brutal). Simplemente, hay que verla. No hay más que añadir.