¡Que de tiempo sin traeros una de mis entradas de limpiando el disco duro! (la última fue
esta
, a finales de septiembre). Se ha juntado que aunque he ido bastante al cine (y tengo pendiente de escribir sobre lo que vi) no he tenido mucho tiempo de ponerme con ello: entre las fallas, que he estado mala y unos examenes muy importantes, me ha sido imposible estar mucho por aquí. Pero bueno, para la semana que viene estaré más libre y podré ir subiendo cosas actuales.
Mientras, ¿os pasáis a ver la limpieza de disco duro? Que aunque muchas pelis que estoy viendo de allí las estoy metiendo en el reto cinéfilo, las que no cuadran seguirán saliendo en esta sección.
Little Tokyo: Ataque frontal
(Showdown in Little Tokyo)
EEUU, 1991; Duración: 79 min., Director: Mark L. Lester, Guion: Stephen Glantz, Carliope Brattlestreet, Música: David Michael Frank, Reparto: Dolph Lundgren, Brandon Lee, Tia Carrere, Cary-Hiroyuki Tagawa, Toshishiro Obata, Philip Tan, Rodney Kageyama, Ernie Lively, Renee Griffin, Reid Asato, Takayo Fischer, Simon Rhee, Keenan Thomas.
Género: acción.

Sinopsis: La Yakuza, una poderosa organización ancestral japonesa, trata de implantarse en Los Angeles extorsionando a los comerciantes de Little Tokyo, así como hacerse con el mercado norteamericano introduciendo una droga sofisticada envasada en botellas de cerveza. Dos jóvenes policías, en misión secreta, tendrán que desarticular el brazo armado de la Yakuza, la "Garra de Hierro", cuyo jefe es conocido de uno de ellos.
Lo mejor: Dolph Lundgren, el desnudo de Dolph (y su amor por salir sin camiseta) y Bandron Lee. Y no precisamente en ese orden, que el orden de los factores no altera el producto, ya lo sabemos todos.
Pero además de ellos, y sus personajes, me encantan todas las escenas de acción llenas de artes marciales (Brandon Lee era tan crack como su padre, Bruce Lee) y tiroteos. La verdad es que el guion será loco y simple, pero no tiene ni un momento de relax. No te aburrirás, te lo prometo. Sus escasos 79 min. hacen que la película vuele entre violencia y frases chulescas. Testosterona a cascoporro y poco cerebro, sí. Y me encanta.
Me mola también el toque japonés (me ha encantado volver a ver a Cary-Hiroyuki Tagawa, por el nombre seguro que no caéis, pero hace de japonés malvado a menudo) y que metan a la yakuza (es mafia, y a mí me encanta la mafia). ¡Si es que hasta hay una pelea de un sumo Vs Dolph! Y han usado a muchos actores japoneses (bueno, Tia y Brandon no lo son, pero bueno) es más, muchos de ellos hablaban un inglés…
Pero vaya, que diversión y risas aseguradas. Y también te alegra la vista, no vamos a engañarnos.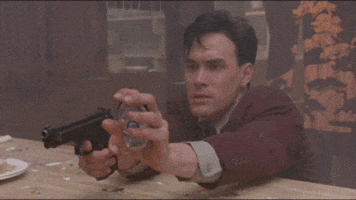 Lo peor: su guion fue escrito por una panda de monos borrachos, nada tiene ni el más mínimo sentido. ¡Pero es lo que más mola!
El personaje femenino es incomprensible, pasa de querer suicidarse porque la ha violado el japonés malvado a, 10 minutos más tarde, tirarse cual loba a beneficiarse a Dolph (a ver, que esto lo entiendo. Pero joder, te han violado, estás mal y él tío que te lo ha hecho te busca para matarte…). Por cierto, le da vida Tia Carrere, ya sabéis, la de "Cazatesoros".
Conclusiones: un placer culpable mayúsculo. Es mala, pero a la vez es buena. La vería otra vez, y otra, no me importaría. Es tan divertida, loca, absurda, con unos protas tan buenorros y llenísima de acción y artes marciales que es imposible no quererla. ¿Pero porque había olvidado yo esta pequeña joyita durante tanto tiempo en mi disco duro? Ni se os ocurra perdérosla si sois fans de los héroes de acción de los 90 y las locas películas de Serie B de este estilo de la época.
Equilibrium
EEUU, 2002; Duración: 107 min., Director: Kurt Wimmer, Guion: Kurt Wimmer, Música: Klaus Badelt, Reparto: Christian Bale, Taye Diggs, Emily Watson, Angus MacFadyen, William Fichtner, Sean Bean, Sean Pertwee, Dominic Purcell, Matthew Harbour, John Keogh, David Hemmings, Kurt Wimmer.
Género: ciencia-ficción, thriller, acción.

Sinopsis: En un régimen totalitario de una sociedad futura, se ha conseguido eliminar la guerra a base de suprimir todas las emociones: los libros, el arte y la música están estrictamente prohibidos, y los sentimientos se consideran crímenes que deben ser castigados con la muerte. Clerick John Preston (Christian Bale) es un agente del gobierno cuya misión consiste en ejecutar a quienes desobedezcan estas reglas; sin embargo, en un cierto momento, empieza a preguntarse cuáles son sus sentimientos y emociones y si merece la pena vivir sin ellos.
Lo mejor: me encanta esta ciencia-ficción distópica, además la cinta mezcla "Fahrenheit 451" de Bradbury con "1984" de Orwell, con los toques de espectacularidad, luchas y efectos especiales de "Matrix". Todo mezclado da un resultado de diez, muy, muy entretenido y adictivo. Termina de redondearlo un siempre genial Christian Bale que lo da todo en el papel y todo un elenco de caras conocidísimas como secundarios (Emily Watson, William Fichtner, Sean Bean, Sean Pertwee…) y que están tan estupendos como él.
Su crítica al sistema totalitarista y a la libertad de opinión es un tema ya visto, cierto, pero aun así siempre me gusta verlo. La historia te engancha, el guion es ágil y rápido y con muy buen ritmo, la estética mola y su ultraviolencia hace el resto.
Las peleas son espectaculares. Las coreografías, tanto de los tiroteos como de la lucha cuerpo a cuerpo, son magníficas e hipnóticas.
Además, tiene una duración muy ajustada, se guarda algún que otro giro de guion y su final mola mucho.
La escena del cachorrito es amor (y manipuladora de sentimientos), ahora yo me pregunto, ¿"John Wick" se lo copió de aquí? :P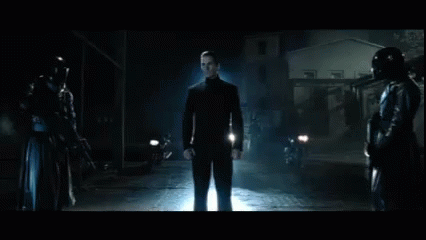 Lo peor: mh… Sean Bean estará unos 10 min. en pantalla, ¿Por qué lo matáis siempre tan pronto?

Conclusiones: lleva mucho tiempo en mi disco duro, lo que me hace plantearme muchas cosas… ¿Por qué no la vi antes? ¿Qué hice yo en el 2002 que no fui a verla en cine? (bueno, tenía 12 años, eso podría explicarlo) ¿Por qué ni recordaba su existencia? En fin, me ha encantado. Me lo he pasado genial y es todo lo que debía haber sido "Matrix" y no fue (¿os he contado alguna vez que la saga me parece un muermazo? Vi la 1ª a duras penas y cuando lo intenté con la 2ª me dormí…).
Veo que la critica la vapuleo en su día, pero sí que fue apreciada por el público. Yo llego tarde, pero me apunto al segundo grupo y creo que debería reivindicarse más porque está muy olvidada y merece la pena. Me ha encantado.
Benny & Joon, el amor de los inocentes
(Benny & Joon)
EEUU, 1993; Duración: 100 min., Director: Jeremiah Chechik, Guion: Barry Berman, Música: Rachel Portman, Reparto: Johnny Depp, Mary Stuart Masterson, Aidan Quinn, Julianne Moore, Oliver Platt, Dan Hedaya, William H. Macy, Joe Grifasi, Liane Alexandra Curtis, Eileen Ryan, CCH Pounder.
Premios:
1993: Globos de oro: Nominada Mejor actor principal - Comedia o musical (Depp).
Género: comedia, romance, comedia romántica.

Sinopsis: Desde la muerte de sus padres, la conducta de Joon (Masterson), una chica sensible y delicada, es la de una persona desequilibrada. Por eso, su hermano Benny (Aidan Quinn) la protege y tutela de modo muy estricto. Como consecuencia de una disparatada apuesta en una partida de póquer, Benny tiene que aceptar que Sam (Depp), un muchacho extravagante y solitario que tiene un don especial para la pantomima, se vaya a vivir con ellos. Joon y Sam simpatizan enseguida y acaban enamorándose.
Lo mejor: Johnny Depp y Mary Stuart Masterson son tan adorables que puedes morir de adorabilidad mientras les ves actuar. En serio, son tan tiernos… es verlos y solo quieres que a sus personajes todo les vaya bien y que acaben juntos y felices (me pasa exactamente lo mismo que en "Eduardo Manostijeras"). Además, los dos actores están geniales. Johnny y su homenaje a Buster Keaton es de lo mejorcito de la película. Su look, sus gags de humor físico, la escena de los panecillos… estoy enamorada de su personaje (y de Johnny, pero eso no es nuevo). Y mención también para Aidan Quinn, por supuesto. Le ha tocado ser el serio y sensato, pero lo hace genial.
La cinta genera una sonrisa permanente y muy buen rollo, aderezado con su tierna historia (trata de una forma muy dulce las enfermedades mentales y a la gente que no encaja y retrata muy bien ese amor más 'puro' e inocente) y sus actores termina de redondearla.
Y termino diciendo que su BSO es genial. No sabía que la canción 'I'm Gonna Be (500 Miles)' de The Proclaimers pertenecía a la película. Y siempre me ha molado mucho, ¡es súper pegadiza!
Lo peor: nada. Bueno, no haberla visto hasta hace poco… ¡qué vergüenza!
Conclusiones: otra que llevaba tiempo en mi disco duro, de las pocas que no había visto aun de Johnny (que ya sabéis que es un actor que adoro). Me ha gustado mucho, me ha parecido entrañable y adorable, con un Johnny genial en su papel y con escenas inolvidables.
Mr. Right
EEUU, 2015; Duración: 93 min., Director: Paco Cabezas, Guion: Max Landis, Música: Aaron Zigman, Reparto: Sam Rockwell, Anna Kendrick, Tim Roth, RZA, Michael Eklund, James Ransone, Alec Rayme, Elena Sanchez, Luis Da Silva Jr., Sue Rock, Wendy McColm, Christopher Matthew Cook, Garrett Kruithof, Katie Nehra.
Género: comedia, thriller, comedia negra, asesinos en serie.

Sinopsis: Una mujer (Kendrick) se enamora de un hombre (Rockwell) aparentemente perfecto... pero resulta ser un asesino profesional, algo que le planteará no pocas dudas éticas y morales.
Lo mejor: sus dos actores protagonistas (Rockwell y Kendrick), que hacen todo lo posible por llevar adelante la película ellos solitos. Y lo consiguen en parte, porque son lo más divertido con creces y resultan adorables y entrañables, a la vez que letales.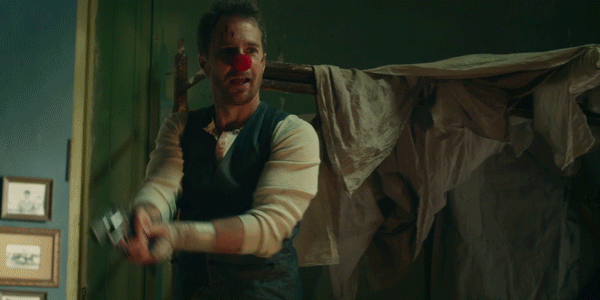 Lo peor: en el fondo, demasiado tontorrona y simple (incluso infantilona y, a ratos, cursi). Imposible evitar mirar el reloj de vez en cuando para ver cuánto le queda (y eso que es corta). Su historia no da para mucho y sus personajes están bastante desaprovechados, todos. Desde los protagonistas, hasta los secundarios. Un pelín más de mala baba entre la comedia no le hubiese venido mal. Pero especialmente, es su toque comedia romántica el que más chirría.
Conclusiones: un 'meh' en toda regla. Imagino que acabó en mi disco duro porque salen Tim Roth y Sam Rockwell y era una comedia negra con asesinos de por medio (todo, ingredientes que me encantan), pero se queda a medio gas. No tiene demasiada chicha en su soso y predecible guion y la comedia romántica no termina de cuajar entre el batiburrillo de thriller y de comedia negra. Una lástima, porque sus dos actores protagonistas sí que valen la pena.